10 Years of One Tree Hill
I knew following Buzzfeed on Twitter could be a big mistake. I realized straight after I pressed that button. However thanks to them I got to know that the first episode of one of my favourite tv-shows ever aired 10 years ago today: One Tree Hill. That`s a reason to celebrate, people!
First of all, I feel old.
Second, I wish there was a show like this for today`s teen generation.
One Tree Hill contained a lot of things that made me love the show.
Music is one of those things. I got to know so many artists I`ve never heard of before just by watching the show. Fall Out Boy was one of them and the episode where Pete Wentz went on the weekend getaway with the group of friends is still one of my favourites. Jack`s Mannequin was also on the show and a bunch of other awesome pop-rock/punk bands from that era, who I can`t recall right now. Not to mention Gavin DeGraw who wrote THE SONG of One Tree Hill.

I mean who can forget this?
I remember watching each episode, then trying to remember parts of the lyrics from the actual song that was playing so I could search for it later. It was mental. I loved the songs they put on as soundtrack.
...or rock and roll.
My favourite compliment I`ve ever received is also linked to OTH and the role of music on it: my friends see me as someone who knows everything about music and concerts, and I was told once "You are so much like Peyton from One Tree Hill!" and I was like "Thank you, that`s like the best compliment ever". Haha!

Ugh, give me that record collection!
I also loved that a simple place, such as the river court could have such big role and meaning for the individual. The scenes where Lucas and friends used to play basketball there, always reminds when me and my cousins or friends went out to play basketball ourselves. Although our place isn`t by a river. What a shame.
The river court was an awesome plce, wasn`t it?
The characters were relatable too. Each of them had attributes, that the viewer could find in themselves as well and it made it easier to understand the troubles they went through: the girl who lost her mother –twice; the step brothers with horrible father who hated each other yet later became friends; the girl-next-door kind of tutor who became rockstar; and so on. The fact there was a narration during the episodes, like someone`s reading a book (Lucas`s book) or diary made this fictional story seem even more real. The quotes were great too.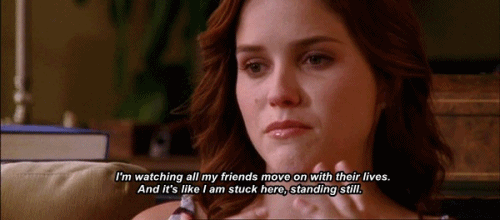 Story of my life, Brooke.
One thing I still cannot understand is how could Dan Scott die as a sort of good guy surrounding with his family after all the bad things he`d done. He was the ultimate bad guy who screwed up everyone`s life most of the time and I really hated him for this.
One Tree Hill ran through 9 seasons between 2003 and 2012. It`s true that there were great and not so great seasons during this period (especially after season 4, where they should`ve stopped) but I always loved watching it - sure the handsome boys put a lot into my enthusiasm.
I might as well just re-watch some episodes now. I did it last year with the whole seires but I miss the vibes and those times when the show aired.

The duchiest character ever. Chris Keller needs his own show.
Now that the post came to an end... celebratory dance to Spice Girls, anyone?
What were your favourite OTH moments?
You'll
♥
Loading related posts from sailthru...
---
blog
Lana Del Rey isn't wasting any time between albums! Ultraviolence, the gloomy diva's extremely underrated sophomore LP, was only released six months ago but
Partner